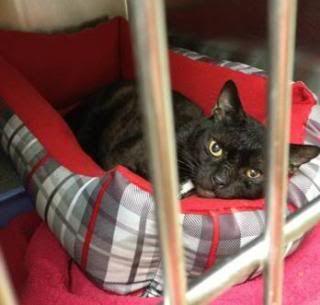 Wyndham is a very friendly kitty who travels well. Please read
Wyndham's story below and volunteer if you are available.
From Anita:
Wyndham was found in a cat colony at a resort in Santee, SC at the end
of June 2013 while I was vacationing with my extended family. He was
friendly so I was able to vet and microchip him and tried to re-home
him in the short time I had in SC. Unfortunately, the local lady that
was helping me search for Wyndham an indoor home decided to let him
back out at the resort and feed him in the colony. Per the lady, once
she released him, she never saw him at the resort again.
4 Months later a nice lady staying overnight in a motel while traveling
through Santee, SC from Florida. She met a very skinny and friendly
Wyndham and took him home with her to New Jersey. She scanned and
found the microchip and contacted us. We were so happy that Wyndham
was safe and off the street once again.
Wyndham has been fostered by this kind lady and she has been searching
for his Forever Home in the NJ area. Unfortunately, she is moving to
Florida the first week in January, 2014 and cannot take Wyndham with
her.
Clermont Pets Alive will not let Wyndham fall through the cracks again,
but we need to find transportation for Wyndham from New Jersey to
Cincinnati, OH.
Have a GREAT Day!
Anita Barron
513-753-3270
acbarron@petalliance.org
www.PetAlliance.org
__________________________________________________________________
reply to cherryharleytransports@fastmail.fm if you can drive a leg
must fill by Thursday at 9 pm or will cancel
Wyndham Transport NJ-OH Dec 28th
A CHERRYHARLEY RESCUE PARTNERS TRANSPORT
TRANSPORT COORDINATOR
Emily Cherry (cherryharley)
cherryharleytransports@fastmail.fm ( @ fastmail.fm)
please use email only as I work full-time
phone # for urgent contact and day of the run only: 334-524-3125
PLEASE FILL IN BELOW IF YOU HAVE NOT DRIVEN FOR ME PREVIOUSLY:
Leg you are volunteering for:
Nearest Large City:
Name:
Street:
City/State:
Home Phone:
Cell Phone:
Can you receive text messages?
Primary Email:
Do you have access to this email after 5 pm and on weekends?
Secondary Email:
Do you have access to this email after 5 pm and on weekends?
Emergency Contact name and phone:
Vehicle Desc:
License Plate:
Suggested meeting place at the beginning of your leg:
Suggested meeting place at the end of your leg:
(I allow my drivers to choose meeting places that are convenient for
them)
How many dogs can you transport?
Do you have your own crates?
What other coordinators have you driven for?
I respond to ALL offers. If you offer and haven't heard back from me in
24 hours, please resend your email.
Passengers: Wyndham, a beautiful black cat
He will be traveling in a crate with a litter box and will not need to
be let out at all during the transport.
All passengers are going to fully screened and approved rescues or
adopters. No animals may be adopted off of a transport. If you are
interested in a particular pet you have driven, you MUST go through the
proper procedures and contact the rescue for an application. Keeping a
pet that does not belong to you is THEFT.
Route and Legs
15 minutes has been added to each leg for transfers. All legs are
flexible. Please let me know if you need to change anything. Also, I am
not as young as I used to be. I make mistakes. Please let me know if
you catch any errors in this run sheet!
Saturday Dec 28, 2013
Leg 1 Filled, thanks Ellen T!
Depart: Ocean Gate NJ 8:00 am
Arrive: Somerville NJ 9:15 am
1 hour 15 min
Leg 2 Filled, thanks Tara D!
Depart: Somerville NJ 9:20
Arrive: Harrisburg PA 11:20 am
2 hours
Leg 3 Filled, thanks Lauren G!
Depart: Harrisburg PA 11:30 am
Arrive: Bedford PA 1:00 pm
1 hour 30 min
Leg 4 Filled, thanks Carole!
Depart: Bedford PA 1:15 pm
Arrive: Chaleroi (Pittsburgh) PA 2:45 pm
1 hour 30 min
Leg 5 Filled, thanks Judy G!
Depart: Chaleroi (Pittsburgh) PA 3:00 pm
Arrive: Cambridge OH 4:30 pm
1 hour 30 min
Leg 6 Filled, thanks BJ!
Depart: Cambridge OH 4:45 pm
Arrive: Grove City (Columbus) OH 6:00 pm
1 hour 15 min
Leg 7 Filled, thanks Fonda!
Depart: Grove City (Columbus) OH 6:15 pm
Arrive: Cincinnati OH 7:45 pm
1 hour 30 min
End of Transport
THE FINE PRINT: CherryHarley Transports is not a business. I am a
volunteer transport coordinator who has a network of volunteer
drivers and we assist rescues in their efforts to save death row dogs
and place them in approved adoptive homes. All rescues must have proper
permits to import dogs and all dogs must have health certificates to
cross state lines. Please remember that I am dependent on what the
senders tell me about our passengers' temperaments. The very nature of
rescue transport creates some risk for those who participate in it;
even a good-natured dog may find it stressful to be passed from
stranger to stranger and cooped up with unfamiliar dogs and may act in
uncharacteristic ways. Neither I nor anyone associated with this
transport can accept liability for any accidents or incidents that may
occur during the transport. Thank you for understanding and
volunteering. Emily Cherry (CherryHarley Transports)